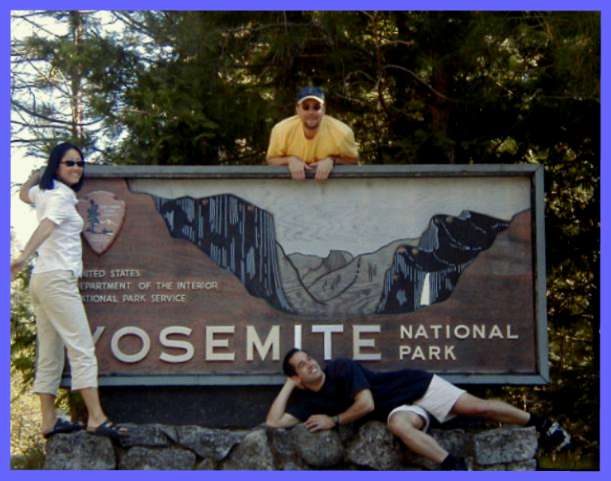 The City Kids Go To The Mountains....Yosemite!!!
---
05/21/00



It all started a couple of months ago after I read a hiking article about the 10 best hikes in the US and talked to my buddy Steve...I had to do the Half Dome hike. So I rallied the troops, got enthusiastic buy-in, Andrew made the reservations and besides what better way to get me into the gym but the fear of a 17 mile hike....yikes. By 6 pm Friday evening we had reached Curry Village (in one piece...I won't say anything here about Andrew's driving), the sun was still up and the bears were still sleeping...time to take some photos....

As you can see the wildlife was abundant...lots and lots and lots of squirrels...of course seeing them was preferable to seeing mountain lions and black bears. Bears are a big problem in Yosemite...you know how it is...people leave their Big League Chew, beef jerky and Gatorade in the car...mmmm yum doesn't that sounds delicious...poor bears they have to be dissapointed when they finally do get to the food.

We decided to go to bed early since our plan was to hit the trail around 7ish the next day...well except me, I wanted to keep the light on to read...oh and there was that knock on our cabin door after the lights were out...our last member had arrived...Ms. Bethany...yeah...she drove all the way up from sunny San Diego...just so she could finally crash in our very luxurious accomodations (if you know me you can probably determine the degree of sarcasm I am using here)...ahhhh time for bed...and for the most part it was a good sleep...except for the baby crying at midnight...and the woman in the middle of the night saying "Shoo Shoo Bear Shoo"...uh yeah that will do it.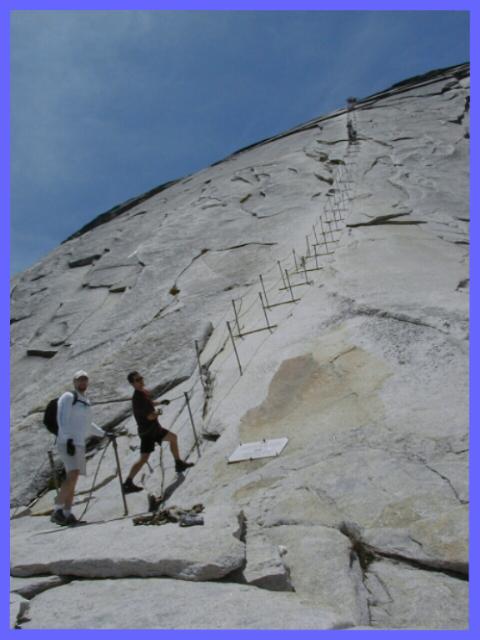 So we got up bright and early the next day...well after we let the alarms go off and fell back asleep again...and then we were off to....get coffee of course...jeez as if, you know me...well it seems that everyone else staying in Yosemite had developed the same caffeine addiction that I had...so then we were off to...well to the tram stop...for the mile ride to the trailhead...well give us a break it was going to be a long, long hike....and then we were off to...hike!!!




So we climbed the Mist Trail up to Vernal Falls, got soaked....refueled....and headed for Nevada Falls....and then up to the Dome....of course we were hiking at different paces...there was the sprint and recooperate group...and there was the steady but progressive group..I was in the latter...so finally we reached somewhere near 8000 feet...and what a view...gorgeous...almost there now...we just had to get up those darn steps...and we did...and then there were the cables....oh yes the cables...they had gone up on Wednesday....the cables are what allows you to get to the top of Half Dome...unless you had decided to climb the face of Half Dome...which really wasn't an option for our group....but before we did any serious contemplation about hiking the cables it was time for some PB&J sandwiches....thanks JinSun...the multigrain bread was great.
Okay enough eating...time to make some decisions...so Ryan and Andrew went...I was bummed I couldn't go because of my current lack of arm strength due to the now infamous "broken wrist incident" (a story for another time) and JinSun well....it was so nice and sunny out...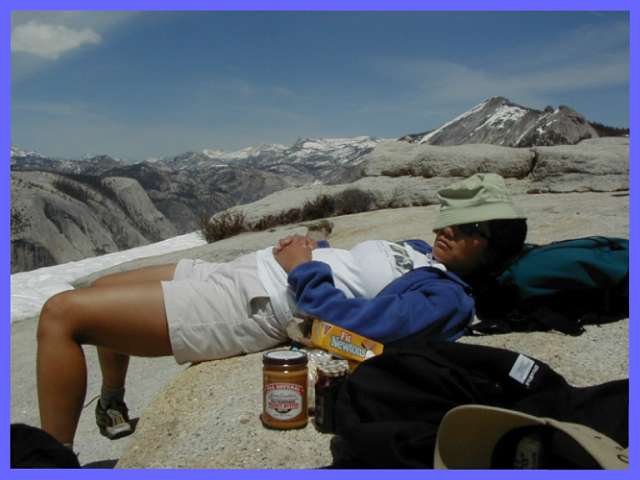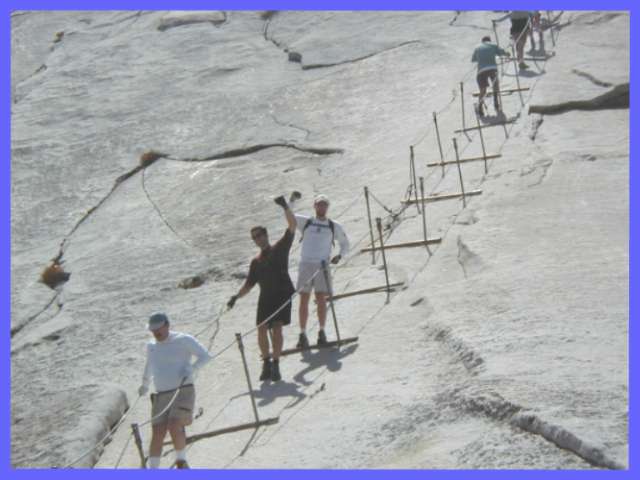 Now if you know anything about this hike then you know that the final hike is a fairly vertical climb, about a 50 - 60 degree grade...uh yeah nice...which is tough on the way up (as I was told)...the arm muscles were working...but the way back is the tough part...your feet are slipping, you have to jockey for position with people trying to come up, of course there is an inevitable traffic jam in the afternoon and I'm guessing that by the time you are making your way down...you just want to be at the bottom...so the guys made it down...and they were totally psyched, they said the view was great and there were kudos all around...awesome job...oh wait...I forgot we still gotta hike down...darn.

Okay let's go...so we went and finally reached Nevada Falls and decided to take the John Muir Trail down...a little longer but with less of a grade than the Mist Trail and it had awesome views to boot...we also labeled this trail the poop trail (use your imagination)....and we walked and walked...and I finally had to start thinking happy thoughts...mmm beer..mmm pizza...mmmm beer..beer....and before I knew it we were back and sitting down to a much deserved beer(s) and slice(s) o' veggie pizza...what a great day.

Needless to say we were in bed early...there was not a lot of spare energy to go around...see ya tommorrow..night night.


---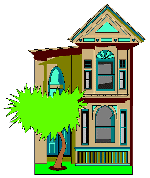 OR